Jedlie's Magic Circus is fun for the whole family. Please visit www.jedlie.com to find out how to bring this inspiring show to your community.
Interview with author Gail Gritts about Messy Hair Game (Reba & Katherine)
Hey everyone! Joining us today is the debut author Gail Gritts in a one-on-one conversation with our host Jed Doherty. Her children's book, Messy Hair Game, released this month and Gail is joining us to tell us everything about her book from the story to the main characters.
In our interview, Gail discusses Messy Hair Game, describes her journey as a writer, What inspired her story. Gail has some importance of sharing and cherishing our warm childhood memories and how to create them for your kids. Tune in to learn some interesting facts about her story and her childhood experiences. Listen and hear what Gail has to say – you will be amazed!
Here's more information about Gail Gritts
Gail Gritts is a children's author and devotional writer. She and her husband, Tom, have spent the past 34 years in England doing missionary work. Timeworn with telling repeated fairy tales to her grandchildren, she reached into her past and pulled up the antics of Reba and Katherine that delighted her hearers.
More about MESSY HAIR GAME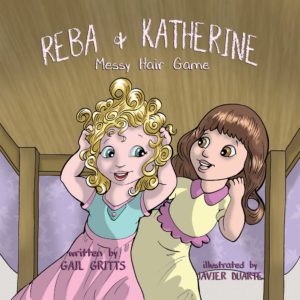 Reba and Katherine are tired of waiting on Grandma, so they invent their own game to pass the time. Maybe they have made a poor choice?
Children's author Lorri Cardwell-Casey describes the story as "in the same spirit as the Little House books, it's a story about fun and family—and a wee bit of mischief."
Javier Duarte, a Uruguayan artist with over ten years of experience in children's illustrations, creates the captivating artwork that brings Reba and Katherine to life.
In this episode, we discuss
Gail reads out an excerpt from Messy Hair Game
More about Messy Hair Game & where did Gail get the idea for her book
Gail's publishing process and how sharing her childhood stories with her granddaughters inspired her to write this book
Why childhood memories are the most outstanding
Gail discusses her upcoming projects & some fun facts about her book
Jed shares some great words of wisdom from author Samuel Clemens who is better known by his pen name Mark Twain. Be sure to tune in & catch all the fun. Happy Listening!
A big thank you to Gail for joining us and for sharing her story!
If you've enjoyed this episode then please rate and review our show in iTunes and share it by clicking the social media buttons at the bottom of this page!
Thanks for tuning in and have a stellar day!
Where can people find Cheryl on the internet?
Her website: http://www.truestorykeepsake.com/
Facebook: https://www.facebook.com/truestorykeepsake/
Amazon: www.amazon.com/Messy-Hair-Game-Reba-Katherine/dp/1945669381/?pldnSite=1
Check out The Great Martini, A fun and touching story about Sam, a lovable but far from perfect magician who learns that the greatest transformation is transforming feelings of caring into action to help another human being. The Great Maritini, as an exclusive amazon e book. Please click here to get your copy today.