A Chat to remember with Hayley Nystrom, author of "The Fairies of Frost"
Happy Thursday people!
We're excited to welcome another talented debut children's author to the podcast! Hayley Nystrom is the author of the newly released children's picture book, "The Fairies of Frost". Hayley is a writer, actress, and puppeteer.
Hayley is joining us to talk about her debut book, her inspiration for writing, challenges she faced during the process of writing and publishing her first children's book, her experience as a puppeteer, and much more. Tune in for all the great insights!
.
Learn more about Hayley Nystrom
Hayley is a writer, actress, and puppeteer. She's created several original puppet pieces, and has performed across the country, from New England to Chicago to San Francisco, and, most recently, NYC. She is currently working on the final two books of her Magic of the Seasons children's series.
Learn more about "The Fairies of Frost"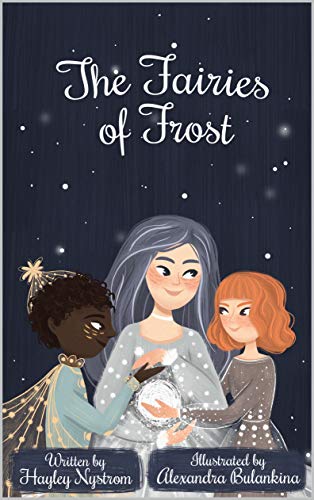 When the autumn air turns soggy and the sky is dark and gray….
It means that wintertime is here! Winter is a magical time of year, filled with snow forts, candlelight, and family fun.
The Fairies of Frost each enjoy their own special part of the season, under the watchful eye of Lady Solstice.
There's so much love, excitement, and laughter this time of year, it really must be magic.
***Chosen as Foreward Review's Book of the Day and Editor's Pick***
***My daughter finally has a fairy that likes just like her!***
***Finally a holiday book that includes Hanukkah, Christmas, Kwanzaa, and Solstice***
***Recommended for classrooms, libraries and homes***
***This book will put you under its spell.***
****It is so rare to find a story that is inclusive, shows characters of diverse origins AND a wonderful story that is just a beautiful story. This book gets full points for doing just that.****
Grab your copy of The Fairies of Frost on Amazon!
Interview Talking Points & Questions
Tell us everything about The Fairies of Frost
What inspired you to write this book?
Some of the challenges you have faced while writing The Fairies of Frost
How did you get into puppeteering? How was this experience for you like?
Puppetry is a wonderful way of expressing yourself and this could be a great tool for the families to encourage their kids to express their feelings. What are your thoughts?
What's next for Hayley?
A big Thank you to Jody for doing this Interview! We're so glad to bring this wonderful book to all our listeners and we hope you'll check out more of her books in the future!
If you haven't already done so, listen to this episode & feel free to share it by using the social media buttons at the bottom of this page. We would LOVE if you could leave us a review on iTunes.
Thanks for tuning in and have a wonderful Tuesday!
*Post contains an affiliate link.