#RWYK Great Read #Review – With the Courage of a Mouse by Donna Sager Cowan & Illustrated by Diane J. Reid
Hey ReadingWithYourKids Family!!
We're jubilant to introduce you to a children's book that is charming and fun! With the Courage of a Mouse has been added to our list of some of the great books for kids as the Reading With Your Kids Certified Great Reads!
With the Courage of a Mouse by Donna sager Cowan, the first book in the Superhero School series follows Catt, the cat as she literally stumbles into the world of Sweet Meadows.  She's had a tough life so far, and when she discovers she can talk, she is sure she's dreaming.  That is until she meets Simon Cheddar.  Simon is a mouse with a plan for every occasion. 
Read on to know more about Catt and Simon as they learn how to be friends and Superheroes! We hope you and your family enjoy reading this book as much as we did!
Let's have a look at the Book Blurb
With the Courage of a Mouse by Donna Sager Cowan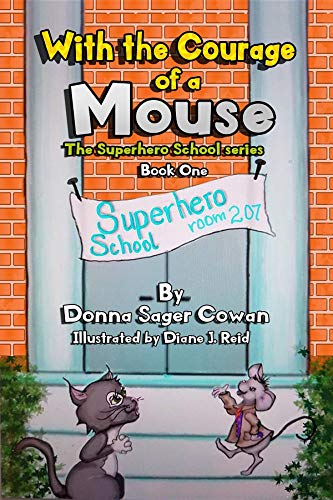 Catt the cat is without a home or even a real name.  After she is dumped in an alley, snarling dogs chase her straight through a hidden portal and into Sweet Meadows.
Catt sees a mouse fall from the sky. He's not just any mouse, he is wearing a vest and coat.
*          *          *
Simon Cheddar is a mouse with a plan. He's also a collector.  He likes to recycle, but he feels safer with full pockets. Simon wants to be a Superhero, so he enrolled at the Superhero School in Sweet Meadows. Today is his first class and he doesn't want to miss a thing.
*           *          *
Outside Sweet Meadows, in Mouseville, Simon's home is attacked by cats. Everyone suspects Catt, except Simon.
Did she do it?  Or, is she being set up?
With the Courage of a Mouse" is now available on Amazon!
About Donna Sager Cowan
Our Review
"Fast-paced Chapter book that is sure to appeal to young fans of animal adventure"
With the Courage of a Mouse is a debut book in The Superhero School series written by Donna Sager Cowan and illustrated by Diane J. Reid. This fun, fast-paced debut chapter book set in Sweet Meadows, follows the adventure of a remarkably resourceful and intelligent mouse named Simon Cheddar and a kind and an innocent cat named Catt. Simon and Catt connect immediately as they seem to have lots in common, including their interest in attending a superhero school at the community center.
Simon's dream to become a superhero is to protect the Mouseville(the hidden mouse village outside of town), from predators so that its citizens can thrive in society, without fear. Catt had a tough life so far. She was bullied by other animals, abandoned by her human family in California, is now set off on a perilous journey to find a new home. In an attempt to be loved and accepted by everyone, Catt lands herself in trouble as everyone except Simon, suspect her of destroying Mouseville. Will Simon and his friends will be able to get Catt out of jail? Life in Sweat Meadows is dangerous, and Simon must summon great courage to survive and save his friend. Will Catt be sentenced for a crime she did not commit or the justice and truth will prevail in Sweet Meadows? Read the book to find out!
With the Courage of a Mouse is an adorable story with very few illustrations that are bright and cheery, adding so much to the story.  What I LOVED most about the book is the author's cute and funny description of each and every animal in the classroom of a superhero school!  Simon, a mouse with a plan for every occasion. He is very resourceful and wears a vest and overcoat with many pockets, nooks, and folds that help him keep his tools and treasures ready for any emergency situation. Can you imagine a shy pig with a purple hooded cape, an owl who observes each student of the room with slow, blinking eyes, a well-shorn lamb, in an orange paisley designer dress, a brown cow with a leather jacket? You will after reading this fun-filled adventure tale. It is hilarious and I could not stop myself from laughing out loud.
Donna makes effective use of anthropomorphic animals in her book. She utilizes a storyline that starts with a problem, a characters finds a solution and endures along the way, and the story ends with a happy ending that provides readers with a moral lesson to ponder upon. All the animals speak so beautifully that it is sometimes hard to remember they are not people. The character, Simon is a great role model as he is loyal and brave. He teaches us to face our fears all while making a good, compassionate choice. He is friends with someone so different from him and yet he looks past her differences to become her friend. And when his friend is in trouble, he doesn't leave her. Instead, he decides to help her get out of the danger. Even though this book consists of thirty-five chapters, the fast pace of the read will satisfy even the most distracted children.
Final Verdict
With the courage of a Mouse is a great book for readers who like action, suspense, and a little laugh! The text flows well, making this choice ideal for either independent readers or for classroom read-aloud.
Congratulations to Donna Sager Cowan for winning the RWYK Certified Great Read Status
A big thank you to Donna for providing us a free copy of this book through Reading with your Kids certified program. The opinions expressed in this review are entirely our own.
If you haven't already done so, listen to Donna Sager Cowan's appearance on the podcast & feel free to share it by using the social media buttons at the bottom of this page. We would LOVE if you could leave us a review on iTunes.
http://readingwithyourkids.com/donna-sager-cowan-on-with-the-courage-of-a-mouse/
Want your book to be reviewed on our site?
We would love to write an honest book review on your book and offer added benefits with our Reading with Your Kid certified status package. Go to Reading With Your Kids Certified Page to get a glimpse of what you will be getting with the package.
If you love this post then please share and please subscribe to us on iTunes. And please spread the word: tell your friends, and leave a rating on iTunes so that others can find it.
We'd love to hear from you!  Contact us and together we can discuss what ideas you think should be included in a future episode, and we can explore potentially setting up an interview. Our goal is to have all voices at the table!
Thanks for visiting us and have a blessed Friday😆