This episode of the podcast is sponsored by With the Courage of a Mouse by Donna sager Cowan. It is the first book in the Superhero School series by Donna sager Cowan that follows Catt, the cat as she literally stumbles into the world of Sweet Meadows.  Be sure to check out DonnaSagerCowan.com to know more about Catt and Simon as they learn how to be friends and Superheroes!
Meet the award-winning Chef Pierre A. Lamielle, author of The Munchy Munchy Cookbook for Kids
Happy Saturday RWYK family!
This interview is one of the most delightful conversations we've ever had on the Reading with Your Kids podcast! Today we're talking about FOOD. In this episode, we welcome Pierre A. Lamielle, an award-winning cookbook author, chef, and illustrator! If you're hungry then you do not want to miss this episode of the Reading with Your Kids podcast!
In this interview, Pierre talks about his brand new children's book The Munchy Munchy Cookbook for Kids, he also shares his insights into taking charge of our kid's health by incorporating tasty, healing foods into their diet and shares some healthy recipes that make a nourishing and energy-sustaining snack food. Be sure to make this recipe with your kids & have fun!
About the Author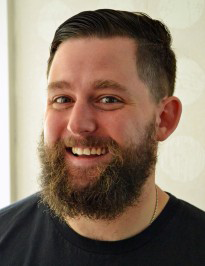 Chef Pierre A. Lamielle is the award-winning cookbook author of Alice Eats: A Wonderland Cookbook and Kitchen Scraps: A Humorous Illustrated Cookbook. Both won "Best Illustrated Cookbook in the World" at the Gourmand Cookbook Awards.
He loves to teach cooking to all ages. He prefers cooking with friends but is not afraid of a little friendly culinary competition. He even competed on Top Chef Canada and Chopped Canada, which he won.
He is very excited for you to meet the amazing cast of characters in The Munchy Munchy Cookbook for Kids and to learn all about cooking and eating tasty food.
Connect with Pierre on Instagram    &   Twitter
The Munchy Munchy Cookbook for Kids: Essential Skills and Recipes Every Young Chef Should Know
What makes good food taste good? A team of tastes and flavors of course!
Fun illustrations and quirky characters bring the kitchen to life. Join Pierre Lamielle on a kitchen adventure as he introduces you to the Munchy Munchy Gang, a team of characters here to educate kids on the art of cooking and the range of flavors they'll encounter. Learn how to make over 28 different recipes, including ketchup, pancakes, and other kid favorites with simple instructions and illustrations for every step. Pierre's characters make complex cooking theories, like balancing the five tastes, accessible to kids of all ages. The perfect manual for a budding chef!
In this episode, we discuss
If Pierre has a background as a chef?
More about his newly released children's book, The Munchy Munchy Cookbook for Kids
What motivated and inspired Pierre to write a cookbook for kids?
Pierre shares her insights into why some kids don't like to eat and he advises on how to better connect with those kids to help them experience eating as a fun positive thing?
Pierre shares with us a Canadian delicacy that is simple and easy to cook with the kids.
Where can we find Pierre Lamielle online?
A big Thank You To Pierre Lamielle for joining us, and for introducing his wonderful book to our listeners!
If you haven't already done so, listen to this episode & feel free to share it by using the social media buttons at the bottom of this page. We would LOVE if you could leave us a review on iTunes.
We'd also love to hear what you think about the podcast and any suggestions on what you'd like to hear in future episodes. Feel free to connect with us on our social media, or email us anytime by contacting us.
Have a stellar day!
*Post contains an affiliate link.
Kid Curated Books is a subscription book box service delivering four books each month tailored to your child's interests. To learn more or to subscribe, visit www.kidcuratedbooks.com.