Wrangler Rein Rides Again
(The Adventures of Cowboy Cinch and Wrangler Rein)
Giddy Up Readers! Our latest Certified Great Read is here!
Congrats to Ryan and Bridget Liggett!
Wrangler Rein Rides Again: 1 (The Adventures of Cowboy Cinch and Wrangler Rein) is our brand NEW Certified great Read! written by Ryan and Bridget Liggett perfectly captures the everyday life of the ranch and the magic of childhood. 
For the little cowboy or cowgirl in your life, the next best thing to do is reading about them in books.
LET'S HAVE A LOOK AT THE BOOK BLURB
Wrangler Rein Rides Again: 1 (The Adventures of Cowboy Cinch and Wrangler Rein)
Meet Cowboy Cinch and Wrangler Rein as they embark on daily CowKid Adventures. They like to ride their horses fast. They like chasing cows, playing with their dogs, running thru water, and jumping over logs. Wrangler Rein Rides Again is based on real kids and real events. So, come along and join in the fun…so you can be a CowKid, too! We believe The Adventures of Cowboy Cinch and Wrangler Rein is a book that all little ones will love. It is relatable to the non-cowpoke and little buckaroos alike. It describes a tale of perseverance and bravery of a young boy to overcome his fears of riding. It doesn't just stop there; this young cowboy inspires his family in this heartwarming story. We hope you are inspired to overcome your fear and find your inner courage too. CowKids Have Courage! Yes, they do!
Buy now at cowkidadventures.com
Meet the Author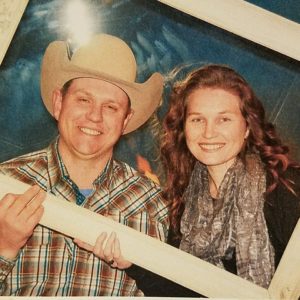 Our Cowboy Specialist is Ryan Liggett (named the Cowboy Specialist by our 5 year old Rein). Actually, this entire blog was Rein's idea, coupled with inspiration from all the writing our 5th grader, Cinch, has had to do all year (2016-2017). The wife of this cowboy is Bridget, married into the horse and leather world in May of 2005, only to find out the next year and 8 sinus infections later, that she was allergic to horses (or Ryan lol). There were only 56 horses on his Arkansas Ranch at the time. Nonetheless, a horse life is what this family of four live-with some medication on the side.
Our Review
Wrangler Rein Rides Again is the first book in the Adventures of Cowboy Cinch and Wrangler Rein series written by Ryan & Bridget Liggett, illustrated by Justo Borrero. The authors show young readers what life is like on a cattle ranch in Wrangler Rein Rides Again. And, while the storyline is pitch-perfect and filled with farm-inspired whimsy, the book's unforgettable illustrations by Justo Borrero put this book over the top. At the end of a hard day on the ranch, the take-home message is this: perseverance, overcoming fear, and finding your inner strength!
Meet Cowboy Clifton and Wrangler Rein- two charming, energetic, and ever so determined cowkids who live on the ranch.  They like chasing cows, playing with their dogs, running thru water, and jumping over logs. They are passionate about riding their horses. But what happens when Wrangler Rein loses his balance while riding his favorite family horse one day and is scared to ride again?  Is Wrangler Rein going to find the courage and overcome his fear? Read the book to find out!
FINAL VERDICT
This heartwarming story about the life of cowkids teaches kids to be brave and overcome their fear when it really matters is sure to become a bedtime favorite. A great book for any child. It explains the responsibility and all the hard work that goes into having a farm.
CONGRATULATIONS TO Ryan & Bridget FOR earning THE RWYK CERTIFIED GREAT READ STATUS
AUTHORS! Want your book reviewed on our site? We would love to write an honest book review on your book and offer added benefits with our Reading with Your Kid certified status package. Go to the Reading With Your Kids Certified Page to get a glimpse of what you will be getting with the package.
If you loved this review be sure to share it on your social media and follow us while you at it!
You can listen to us on Libsyn, iHeartRadio, Spotify, Amazon Podcast, Apple Podcast, and anywhere else you get your podcasts
We would love to hear from you. Contact us here!
Thanks for stopping by!