Check out The Great Martini, A fun and touching story about Sam, a lovable but far from a perfect magician who learns that the greatest transformation is transforming feelings of caring into action to help another human being. The Great Maritini, as an exclusive Amazon e-book. Please click here to get your copy today.
The Return of Our Favourite Mermaid & Children's Book Author, Sheri Fink
– 
The Little Unicorn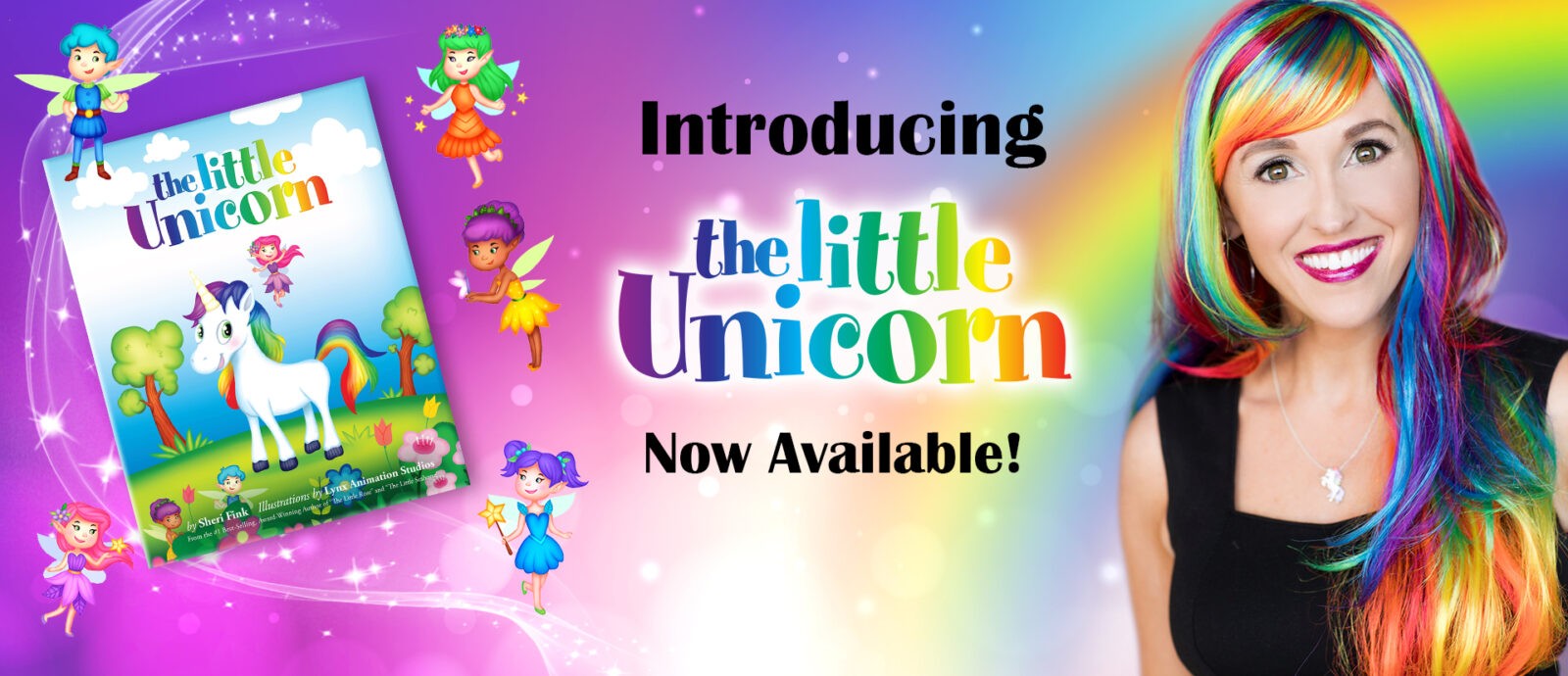 Today, we're very excited to welcome back author Sheri Fink on the Reading with Your kids Podcast!
We're thrilled to introduce Sheri's brand new book The Little Unicorn, a wonderful story for the kids in your life and for anyone who is struggling to let their inner sparkle shine out!
In our exclusive interview with Sheri, we discuss what inspired her to write The Little Unicorn, Why did Sheri choose this theme for her book, Her expectations from the readers, upcoming projects and much more. Stay Tuned for our exciting conversation!
Listen in to find out your inner sparkle with The Little Unicorn!
About Sheri Fink
Discover books, beauty products, and more from Sheri Fink to inspire and empower you and the special people in your life!
 www.SheriFink.com.
More about The Little Unicorn
The Little Unicorn lives in an enchanted forest powered by the magic of her inner sparkle. When she begins to doubt herself, the magic within her and her surroundings begin to disappear. She sets off on a journey to save the forest by rediscovering her sparkle, only to find it in the place she least expects. This heartwarming story helps kids realize that we all have an inner sparkle, and we all can create magic when we believe in ourselves.
The Little Unicorn book by Sheri Fink is now available on Amazon!
Purchase autographed and personalized copies through WhimsicalWorldBooks.com
In this episode, we discuss
Everything you need to know about The Little Unicorn, the main character and the theme of Sheri's Brand new kidlit
Where did Sheri get the idea to write this story?
Some of the positive messages her books promote
What happens when Sheri Fink visits the schools and how are her visits different than other author visits?
More about Whimsical World, an empowering brand created by #1 best-selling authors and inspirational speakers, Sheri Fink and Derek Taylor Kent
Where people can find Whimsical World books online?
Exclusive sneak peek into some of the books Derek and Sheri Fink are currently working on?
Thanks for agreeing to this interview, Sheri. We wish you all the best with The Little Unicorn!
If you haven't already done so, listen to this episode & feel free to share it by using the social media buttons at the bottom of this page. We would LOVE if you could leave us a review on iTunes.
Happy listening!
Thanks for tuning in and have a wonderful day!😆
*Post contains an affiliate link.
Jedlie's Magic Circus is fun for the whole family. Please visit www.jedlie.com to find out how to bring this inspiring show to your community.