RWYK Author Interview with Katie Melko – Paw Elementary: Roxy's Adventure to the Hair Salon
Happy Thursday listeners!
Our guest today is Katie Melko, author of two wonderful children's books in Paw Elementary series. Born and raised in Connecticut, one of Katie's passions has always been writing and finding ways to be creative. She has been practicing dental hygiene for 10 years and received her Masters in Dental Hygiene in 2016.
In our exciting new episode, she talks about book 2 in the Paw Elementary series, Roxy's Adventure to the School Dentist, Paw Elementary: Roxy's Adventure to the Hair Salon, her love for working in public health and helping people in the community. She further explains how children's fear and anxiety or being scared about first experiences inspired the idea to write Paw Elementary series.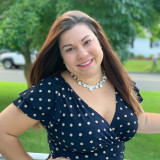 In the second book in the series, Paw Elementary: Roxy's Adventure to the Hair Salon. It is about Roxy getting invited to a birthday party with her class and is taking place at a hair salon. Roxy has never had a hair trim before and is very afraid; the book shows her talking to her friends and family about these emotions, and how she also worked through her fear and came out the other side of the experience HAPPY and PROUD that she did it!  Again the story is show, do, and tell experience- the hope is that parents will use these books as introductions to these environments so that the child and parent can be more prepared and hopefully less anxious.
Where to find Katie Melko online
Website: http://www.12pawspub.com
Twitter: @12pawspubllc
Facebook: Facebook profile
LinkedIn: https://www.linkedin.com/katiemelko
Blog: http://www.12pawspub.com/blog
Paw Elementary: Roxy's Adventure to the Hair Salon
Book 2 in the Paw Elementary series: Roxy discovers that her friend, Honey bear, from Paw Elementary School is having a birthday party at a hair salon and now she's nervous. What will happen during Roxy's first visit to the hair salon? What will they do to her hair? And what are all of those scary tools they use? Go on an adventure with Roxy as she talks to her family and friends about the hair salon and she how she overcomes her fears in this adorable and educational children's book.
Where to buy in print
https://www.barnesandnoble.com
Interview Talking Points & Questions
What inspired Katie to write Paw Elementary: Roxy' Adventure to the Hair Salon, the second book in the series.?  (04:00)
What kind of reactions are you getting from your readers?  (07:00)
How do Roxy's adventures help kids to communicate and express their emotions in a healthy way?
How did Katie Melko's career in dental hygiene lead her to become a children's author?

More about Roxy's Activity Book: a Paw Elementary companion book where kids can decide what colors to use for Roxy's big adventures! Every kid will have fun with this activity book, as they become part of Roxy's story with her friends.
Thank you, Katie, for joining us and for sharing your wonderful book with us!
If you love this episode then please share and please subscribe to us on iTunes. And please spread the word: tell your friends, and leave a rating on iTunes so that others can find it.
We'd love to hear from you!  Contact us and together we can discuss what ideas you think should be included in a future episode, and we can explore potentially setting up an interview. Our goal is to have all voices at the table!
Thanks for tuning in and have a wonderful day😆