Check out The Great Martini, A fun and touching story about Sam, a lovable but far from perfect magician who learns that the greatest transformation is transforming feelings of caring into action to help another human being. The Great Maritini, as an exclusive amazon e book. Please click here to get your copy today.
RWYK Author Interview: Longy Han on Gusto & Gecko Travel series
Happy Sunday to all our dear listeners!
Do your kids love travelling and learning about different cultures? If they do, they're going to love our guest on today's podcast. Please welcome Traveller and author Longy Han to the Reading with your Kids Podcast.
Longy Han is the author of three books, Gusto & Gecko Travel to Kenya, illustrated by Elinor Hagg(Longy Han, 2015) and Gusto & Gecko Travel to New Orleans, illustrated by Elinor Hagg (Longy Han, 2016) and her soon to be released Gusto & Gecko Travel to China. All the books in her travel series are fun-filled stories about countries around the world that your kids will instantly fall in love with.
Longy is joining us today to celebrate the release of her book, to share her love for travel to exotic places, Appreciation for different cultures, and her desire to bring the world to young children! Tune in to learn all about Gusto & Gecko!
Here's more information about

Longy Han
Longy is naturally curious and mildly adventurous. She has travelled independently across 7 continents, over 40 countries and 100 cities mostly on a shoestring budget. Longy has kissed a giraffe in Kenya, eaten rooster testicles in Budapest, swam amongst schools of fish at the Great Barrier Reef, trekked around lagoons in Torres del Paine, flirted with penguins in Antarctica…and the stories go on.
Longy's dream is to one day fly to the moon with a wardrobe full of pastries and play fetch with her humongous, drooling, happy husky on a lunar crater!
Longy received her Bachelor of Commerce and Bachelor of Laws from the University of Melbourne. In 2017, she obtained her Master's in Education (Technology, Innovation and Education) from Harvard University.
More about Gusto & Gecko Travel to New Orleans
Best friends Gusto and Gecko land in New Orleans ready to explore the unique city and feast on beignets [pronounced "ben-yay"]. But what happens when the two friends get separated, and Gusto ends up in the swamps surrounded by hungry alligators?
Along the way, readers discover historic landmarks and attractions in New Orleans, learn about the city's traditional foods, and experience Super Bowl and Mardi Gras celebrations.
More about

 Gusto & Gecko Travel to Kenya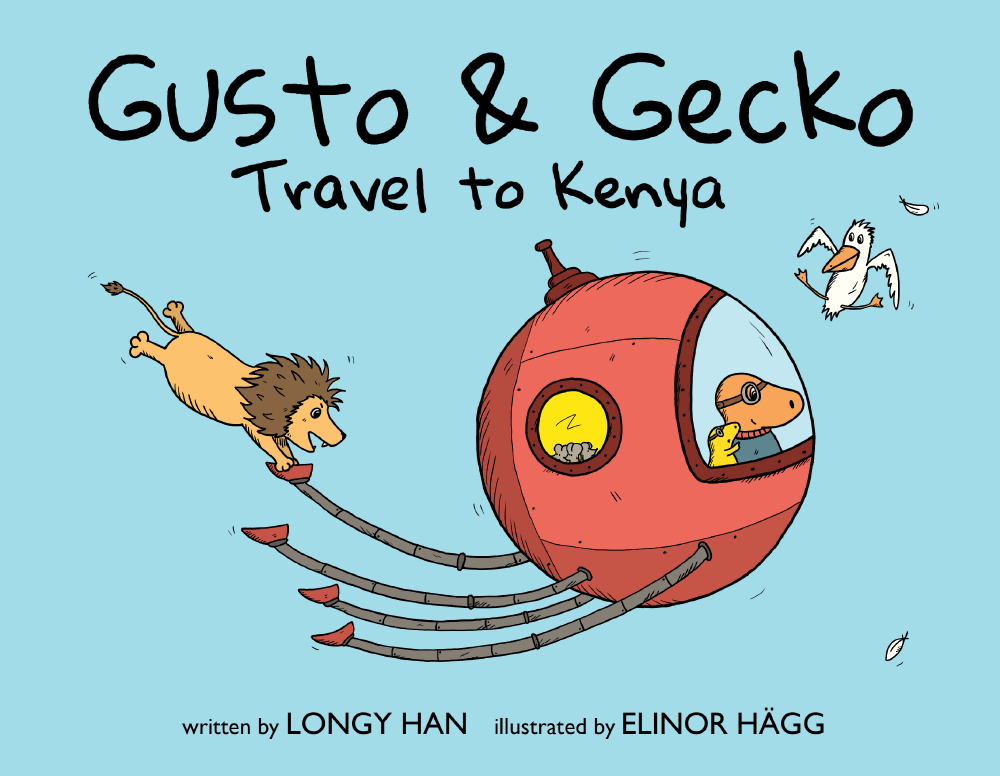 Gusto & Gecko Travel to Kenya is a story about two dinosaurs, a travel machine and Kenyan wildlife.
Our first adventure takes Gusto and Gecko to the rolling plains of Kenya where they stumble upon a ferocious lion and must run for their lives. Along the way, readers encounter Africa's "Big Five" animals in their natural habitats, learn collective nouns and become little explorers.
More about

 Gusto & Gecko Travel to China
Since their adventures in Kenya and New Orleans, Gusto & Gecko are itching to get back into the Rombom, their travel machine. This time, they crash-land in China…on a giant panda! The panda wants to take part in the "12 Zodiacs Challenge" but he lacks self-confidence, so Gusto & Gecko decide to help him.
Along the way, readers will discover iconic attractions in China, experience traditional Chinese activities, and learn about friendship, courage and teamwork.
Would you like to travel with Gusto & Gecko? Click the link below to get your own copy of Gusto & Gecko Travel Adventures
Book link uses our Amazon affiliate code so we earn a small commission on whatever you purchase after clicking on the link. This helps fund the website and podcast. Thank you for your support..
In this episode,
You'll hear all about Gusto & Gecko Travel Series 
Longy shares her experience of working with her illustrator Elinor Hägg  and her publishing journey
Who or what inspired her to write this stories? What does she hopes that readers will gain from reading series?
What's next for Longy Han and the adorable duo Gusto and Gecko, Importance of children's literature, Her love for travel and much more…
Thanks so much for talking with us, Longy! 
If you haven't already done so, listen to this episode & feel free to share it by using the social media buttons at the bottom of this page. We would LOVE if you could leave us a review on iTunes.
https://itunes.apple.com/us/podcast/reading-with-your-kids-podcast/id1212397705?mt=2
Finally, where can we find Longy & her books
Her website: http://gustoandgecko.com
Jedlie's Magic Circus is fun for the whole family. Please visit www.jedlie.com to find out how to bring this inspiring show to your community.